Techfest 2019 to connect Vietnamese start-ups with the world
2019/11/21
The national innovative start-up day Techfest 2019 is expected to connect the Vietnamese start-up eco-system with the region and the world, said Deputy Minister of Science and Technology Tran Van Tung at a press briefing yesterday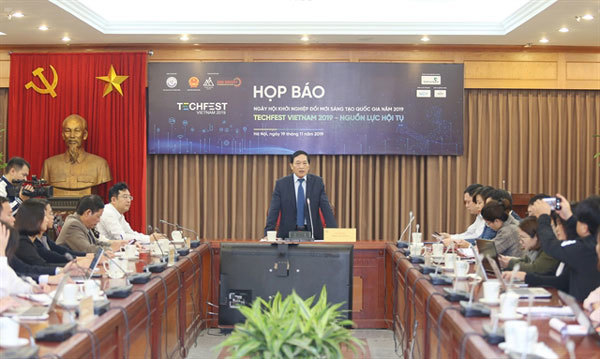 The event would become a platform to integrate manpower, new technologies and financial resources, he said.
Techfest 2019 will be co-organised by the Ministry of Science and Technology and the People's Committee of northern Quang Ninh Province in Ha Long City from December 4-6.
The event is expected to introduce and promote products and services from innovative start-ups and connect them with the world, making Vietnam one of the leading countries in the region in this sector.
At least 250 start-ups, nearly 200 domestic and foreign investors, and 150 big corporations, groups and incubators will attend a series of Techfest 2019 activities including conferences, seminars, start-up competitions and technology exhibitions.
The event is expected to result in more than 300 investment matches.
According to the National Agency for Technology Entrepreneurship and Commercialisation Development, in the first ten months of this year, total investment for start-ups in Vietnam had reached more than US$500 million. The figure was expected to grow and exceed the $889 million recorded in 2018.
Deputy Minister Tung, who is also head of Techfest 2019's organising committee, told reporters that five years after the first Techfest was held, the Vietnamese innovative start-up eco-system had developed.
To prepare for Techfest 2019, start-up activities have been implemented at ministries, sectors, political and social organisations, and at provincial and regional levels across the country.
"The Vietnamese start-up eco-system must also share and integrate with global eco-system. This year, the Ministry of Science and Technology has taken Vietnamese start-ups to visit Silicon Valley, and to participate in start-up days in South Korea and Singapore," Tung said.
Highlighting the significance of interaction with the world, he said start-ups that won prizes at national contests would receive support to attend international start-up days, visit Silicon Valley and South Korea, Israel and Japan to learn from their experience.
"I hope this interaction will help Vietnamese start-up initiatives grow and attract investment from foreign investors," he said. VNS
Reference: https://vietnamnet.vn/en/sci-tech-environment/techfest-2019-to-connect-vietnamese-start-ups-with-the-world-590086.html