Health ministry launches e-portal for prices of medical equipment
2020/09/10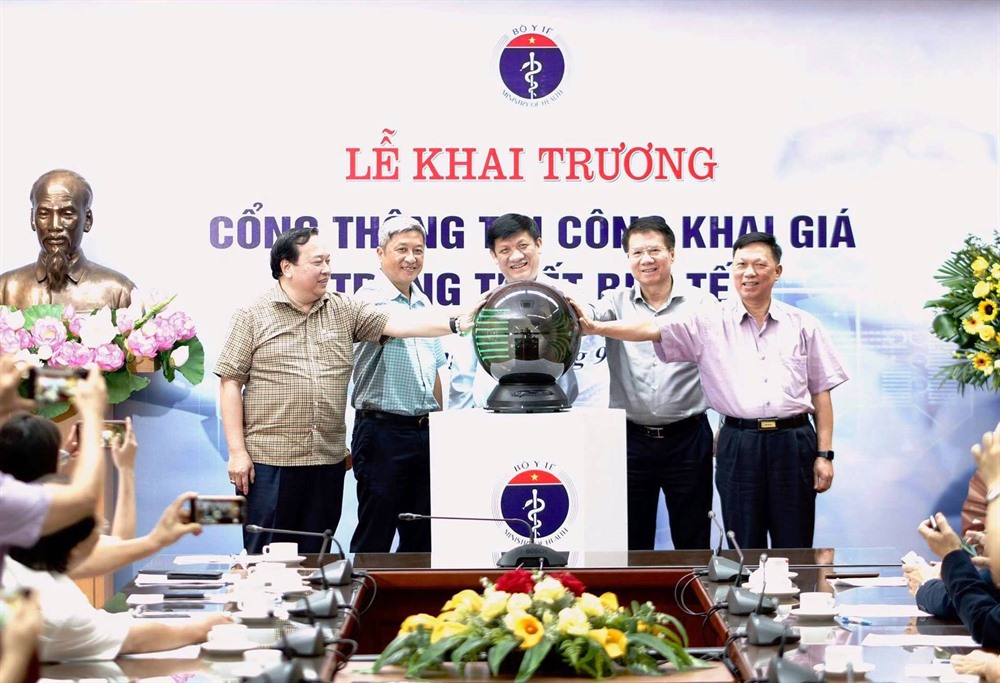 Delegates launch an electronic portal to publish prices of medical equipment in Hà Nội on Wednesday. — VNS Photo Thanh Hải
HÀ NỘI – The Ministry of Health launched an electronic portal to publicise the prices of medical equipment at a ceremony on Wednesday in Hà Nội.
The prices of medical equipment will be available at https://quanlytrangthietbiyte.com/tra-cuu-ttb-y-te.
"The Ministry of Health will provide full information on medical equipment prices to create a basis for medical facilities to refer to and understand prices to handle shortcomings in bidding for medical equipment," said Acting Minister of Health Nguyễn Thanh Long at the event.
"Publicising medical equipment prices is one of the important steps in making the medical equipment market transparent in efforts to improve competitiveness," said Long.
Acting minister Long added that the listing of prices and the configuration of medical equipment as well as the winning prices of bidding packages in the future will be important references for medical facilities in evaluating and bidding for medical equipment, as well as handling shortcomings in the process.
Long added that the health ministry will work with the customs sector to get complete information on import prices of medical equipment to Việt Nam in order to make the entire process of purchasing medical equipment more public and transparent.
"Our ultimate goal is to ensure people have access to quality healthcare services. This is an urgent task of the health sector. The medical equipment and pharmaceutical sectors are two areas that we will strongly reform in the near future," added Long.
Since April, the health ministry announced the medical equipment bidding results on its portal. The ministry has publicised winning bid prices of 50,000 pieces of medical equipment, providing the foundation for relevant authorities and hospitals in bidding for medical equipment.
The health ministry will provide instructions and necessary information on the price of the device (device name, model, manufacturer, country of manufacture, configuration, basic technical features, warranty, training, tax fees, installation requirements and commercial conditions).
The health ministry said that the market for medical equipment and materials in Việt Nam has experienced strong growth. The country's total investment capital for medical equipment increased to US$1.68 billion in 2019 from $515 million in 2010. — VNS
Source: https://vietnamnews.vn/society/772154/health-ministry-launches-e-portal-for-prices-of-medical-equipment.html