Updated admission criteria to make NIC more accessible
2020/11/16
A set of criteria drafted by Vietnam's National Innovation Centre is hoped to favour startups and small- and medium-sized enterprises, helping them to easily enter the centre and access a plethora of government incentives.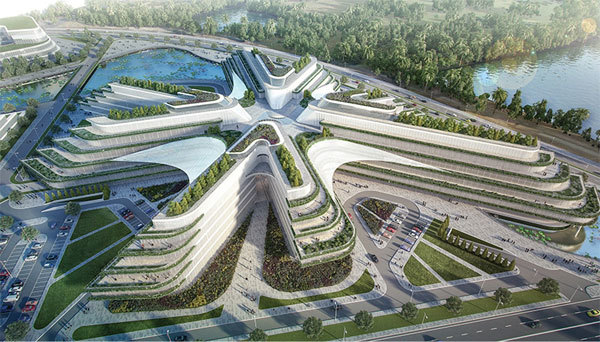 The National Innovation Centre offers attached companies numerous incentives and cost reductions.
Right after the government issued several incentives mentioned in Decree No.94/2020/ND-CP dated August 21 regulating the preferential mechanisms and policies for the National Innovation Centre (NIC), the centre, expected to begin construction in the near future at the Hoa Lac High-tech Park, gathered recommendations to develop criteria to select promising startups and businesses to support them from the beginning.
In a response to VIR, Vu Quoc Huy, deputy director of the NIC, said that the criteria will include key requirements like sectors and niche markets, products, technology, business models, and human resources.
"These are the basic standards to select appropriate businesses," said Huy. "The requirements focus on the core values of businesses instead of their profitability, so startups and small- and medium-sized enterprises (SMEs) with promising ideas have great chances to join the NIC."
Priority sectors include smart manufacturing, smart city development, digital communications, cybersecurity, and the environment. Moreover, Decree 94 also mentions that businesses focusing on clean energy and intermediate goods manufacturing are also entitled to the preference.
From the very beginning of forming the establishment, plenty of overseas tech titans such as US-based Intel and IBM, South Korean SK Group, and Japanese Hitachi Group, among others, have shown their particular interest in the NIC. Most of them hope that through the centre, their performance will keep evolving and that they could create more innovations in the country.
Intel is plotting to establish a research and development (R&D) centre at the NIC as soon as it is officially launched. Similarly, SK Group is also planning to develop technologies specialised in resolving environmental issues, besides a handful of smart city projects, among others at the NIC.
The huge interest of overseas companies has raised concerns that SMEs and startups could be inferior in joining the NIC. According to Chu Anh Tuan, director at Aptech Vietnam, to be entitled to NIC's incentives, businesses with large investments have more advantages in becoming a part of the centre. Meanwhile, SMEs and startups with limited capital will have a much harder time.
Nonetheless, NIC's Huy said that SMEs and startups with valuable ideas and high capability are the core factor of the centre, so supporting them to materialise their ideas is the top priority. "Supporting the different demands of each business is complicated. So, we will decide for each individual business and offer suitable backing," he said.
"The participation of global giants is another important motivation for the NIC. With them on board, we can approach more businesses, especially those in need for assistance," Huy added.
As soon as companies officially become members of the NIC, they will be entitled to several incentives outlined in Decree 94. Those include fewer administrative procedures and a 50-year exemption from land leasing costs in high-tech areas. Accordingly, establishments at the NIC will also be exempt from land clearance expenses and infrastructure usage fees at the areas they lease. Moreover, startups will be able to enjoy a preferential tax rate of 10 per cent over the first 30 years, instead of the previous 20 per cent.
They will also receive a 5-year tax exemption for imported materials and equipment. Moreover, the NIC will provide programmes focusing on supporting innovative companies, including promoting technology transfer between overseas and local businesses as well as assisting them with the research and commercialisation of their products under a sandbox mechanism, following Decree 94 and the Law on Investment 2020.
To materialise the programmes, the NIC is building up coworking spaces in Hoa Lac Hi-Tech Park, in addition to two facilities on Hanoi's Ton That Thuyet and Hoang Dao Thuy streets. These will include meeting rooms, laboratories, and working spaces that are large enough to serve the testing demands of companies.
Moreover, the NIC is also going to develop digital experience centres at these destinations. Each establishment will consist of manufacturing lines integrated with industrial robots, practical applications to enhance forecasts, management systems and data sources, and additional solutions for automatic storage management. Accordingly, the NIC will take responsibility to design models focusing on international and local innovation programmes and organise workshops on startup training.
Van Anh
Reference: https://vietnamnet.vn/en/sci-tech-environment/updated-admission-criteria-to-make-nic-more-accessible-688298.html