All ministries, branches now have LGSP, are ready to share information
2020/11/18
With all ministries and branches now having local government service platforms (LGSP) that connect to the national platform, data will be accessible by state agencies for reasonable use.
LGSPs that connect to the national platform is one of the tasks the Government and Prime Minister asked ministries, branches and local authorities to fulfill this year.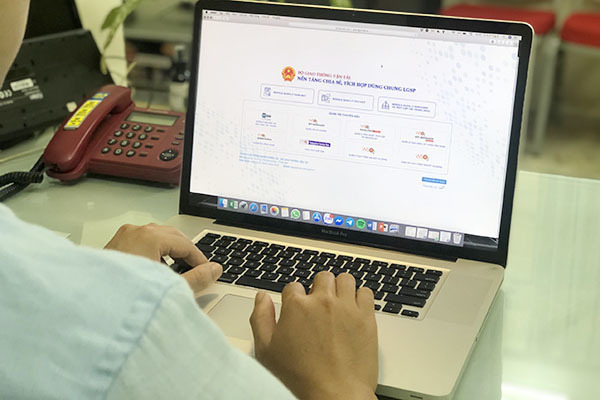 Completing the building of LGSPs and connecting them with the national platform is urgent and must not be delayed, because this comes in line with practical needs, the development trend in Vietnam and overseas, and with the government's instructions.
However, not all ministries and localities have favorable conditions to put the important platform into use in 2019-2020. As of the end of 2019, only 21 localities and ministries and ministry-level agencies, or 27 percent, had LGSP.
Therefore, the Ministry of Information and Communications (MIC), with the role of state management in IT application and e-government development, decided to deploy 'LGSP as a Service' for some ministries and localities to use when they still cannot build LGSPs of their own.
October 30 marked a milestone when the Ministry of Home Affairs had LGSP and 100 percent of ministries and branches got LGSPs.
The readiness by 100 percent of ministries and agencies bears important significance as it allows the connection and sharing of data put through from central government to localities, following the Decree 47/2020 on managing, connecting and sharing data among state agencies.
The launching of 'LGSP as a Service' shows a new way of thinking of MIC that there should be a model when new systems remain unfamiliar. The trial of the LGSP provided by MIC would help ministries and branches better understand the role, benefits and functions of LGSP, thus allowing them to set more accurate questions when hiring services for their LGSPs.
By launching LGSP as a Service, MIC not only acts as the management agency which releases legal documents, urges the implementation of policies and reports the results, but it also helps ministries, branches and localities handle difficulties. This will inspire other works in the future.
According to MIC, to date, 61 provinces and 21 ministries have connected with the national data sharing and integration platform, twice as many as in early 2020.
From January 1 to October 29, 2020, the total number of transactions through the platform reached 4.2 million (the figure was 2.3 million in 2019), which means about 14,000 transactions a day.
This has helped save time and money for people and civil servants. After one year of integrating the birth declaration and healthcare insurance card issuance for children aged below six, 1,200,417 dossiers have been processed.
Trong Dat
Reference: https://vietnamnet.vn/en/sci-tech-environment/all-ministries-branches-now-have-lgsp-are-ready-to-share-information-689115.html