The future of teaching is here today
2021/02/03
Imagine this ... A teacher that never gets tired, never complains, works for free, and no matter what, never gets irritated by misbehaving kids.
Sounds too good to be true? It may well be reality in the foreseeable future.
Meet Tri Nhan - Vietnam's first fully-functional artificial intelligence (AI) robot. And this hunk of metal could soon be coming to a classroom near you.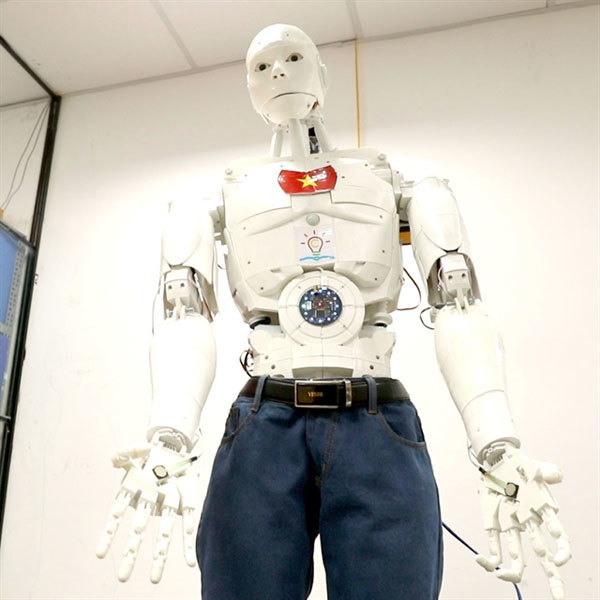 Trí Nhân - Vietnam's first AI robot. VNS Photo Minh Phuong
"Robots have been around for decades, but most are only used for repetitive tasks," said Pham Thanh Nam, a co-founder of the Open Classroom Team.
"Trí Nhân is different, because he has AI and will be used for intellectual work. His main job is to answer questions from students and be a teaching assistant."
The Open Classroom Team is a group of AI specialists providing education methods and platforms for students.
It spent more than a year building, testing, and developing its first AI robot.
And when it was completed, it needed a suitable name.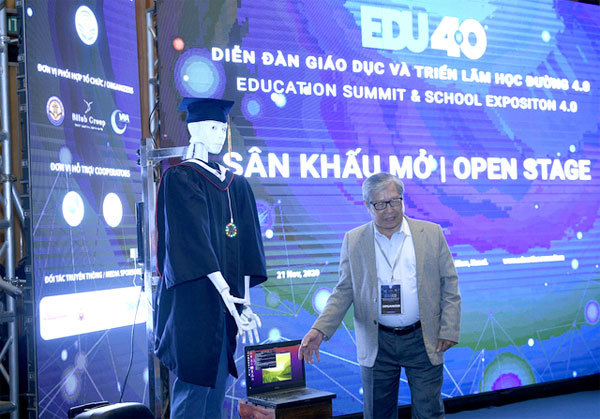 IN THE SPOTLIGHT: Trí Nhân being introduced to the public at the Education Summit and School Exposition 4.0. Photo dantri.com.vn
"When we introduced the robot to the public, we wanted to choose a name for him," Nam said.
"My co-founder proposed the name Trí Nhân. And I think it's perfect. 'Trí' in Vietnamese means intelligence and 'Nhân' is human. So, Trí Nhân not only means artificial intelligence but also intelligent human."
The AI robot was designed and 3D-printed in adult size, and is equipped with a camera and sensor systems.
"We wanted to make a robot that looks human and has human senses," said Nam.
"Trí Nhân has a camera in each of his eyes. He can see and has the ability to recognise faces and images. We also installed a speaker so he can hear what we say."
"And he has sensor systems to measure air quality, temperature, and humidity."
Many technologies from Industry 4.0 have been integrated into the robot to give him the ability to solve problems in various fields or even be proficient in mathematics.
"The most important part of Trí Nhân is his brain," Nam said. "The main brain is not in his body, though -- it's on the cloud.
"Trí Nhân has the ability to answer questions in many different fields. Some of his knowledge even I don't know, but he can answer because he looks for information on search engines."
"The special thing is that he can even do maths. He will try to solve a problem and give you an answer himself rather than searching online for an answer."
His language capabilities are also quite developed, and he can communicate with others quite naturally in both Vietnamese and English.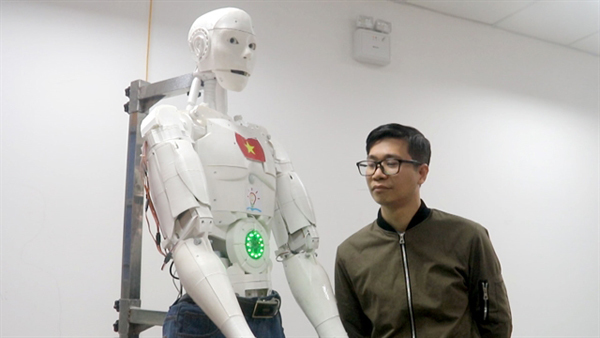 MULTI-LINGUAL: Trí Nhân can communicate naturally in both Vietnamese and English. VNS Photo Ly Ly Cao
"We use many technologies to help Trí Nhân interact with people," Nam said.
"Voice recognition technology transfers speech and he will then try to understand the meaning of the sentence. When he understands the meaning, he connects to a system to find an appropriate answer and then replies.
"By learning every day, he can also respond to others with trending quotes or even tell a joke."
Trí Nhân can currently only move his eyes and his fingers, and still needs a pillar to keep steady.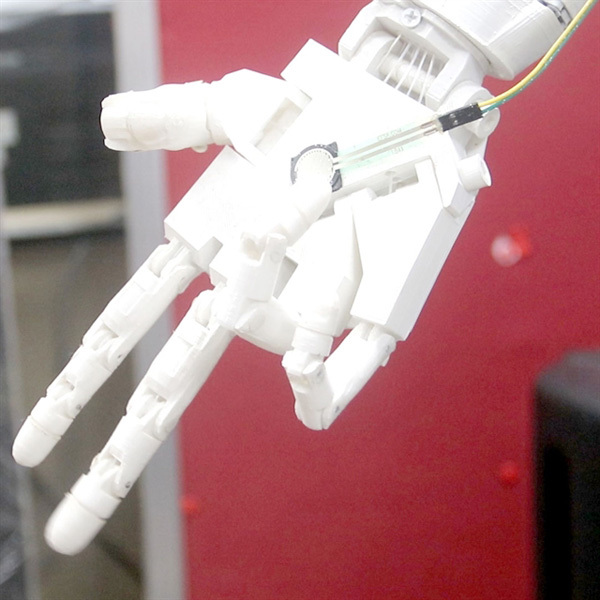 LIMITS: The AI robot can only move his eyes and fingers at this stage. VNS Photo Minh Phuong
"We want to develop two more points," Nam explained. "Firstly, I think Trí Nhân can learn more and increase his knowledge every day. Secondly, we want to do a two-stage upgrade.
"In the first stage, we want him to improve his physical ability, because he is still weak. He can't raise his arms or lift heavy objects.
"We also want Trí Nhân to have hair and skin so he may look more like human."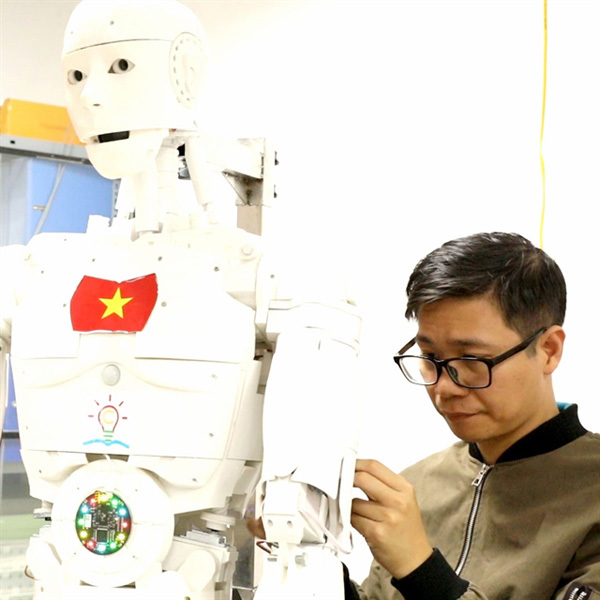 WORK IN PROGRESS: Trí Nhân needs some upgrades to both his intellectual and physical abilities, to make him more human. VNS Photo Ly Ly Cao
Nam hopes that his robot can become a symbol that inspires young people to be brave, be pioneers, and create more products in the Industry 4.0 era.
"I think Trí Nhân could be an inspirational character," Nam said.
"When he is introduced to the public, he will inspire young people and students and give them a clear understanding of AI and what Industry 4.0 is. They can feel more motivated to develop and create their own products to contribute to the country."
The team is continuing to pursue bigger plans in robotics, and will build a second AI robot to work in healthcare.
"Trí Nhân is the first AI robot we have created and he will be used for educational purposes," Nam said.
"We are in the progress of making a second, called Hong Tam (red heart), which will work in healthcare."
"The cost of making an AI robot is quite high. So, after launching these two, we will think about commercialising them."
AI is expected to create breakthroughs in the development of Industry 4.0. It has been applied in a number of sectors in Vietnam, including education, healthcare, agriculture, transport, and e-commerce.
There is still quite a bit of work needed to turn Trí Nhân into a fully functional teacher. But one day, in the future, he and others like him could well be teaching your children.
Minh Phuong & Ly Ly Cao (VNS)
Reference: https://vietnamnet.vn/en/sci-tech-environment/the-future-of-teaching-is-here-today-703294.html