StarGlobal 3D digital solution as good as Google's Street View
2021/07/22
The startup uses 3D scanner, 360 camera and drones to take pictures of showroom space, buildings and factories and then converts the data from physical to digital form.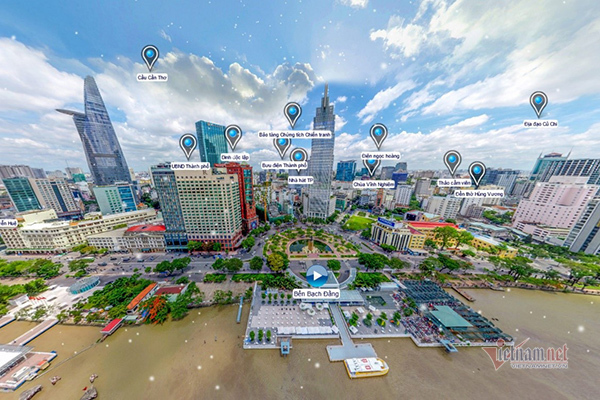 StarGlobal 3D is one of the technology startups leaving an impression on the Shark Tank TV Show. It specializes in providing 3D/360 digital solutions.
Previously, to create a 1:1 digital copy of any existing object or construction work, people used 3D Scanning laser technology. The technology showed the outstanding superiority over traditional measurement methods.
However, the weak point of 3D Scanning technology is that the data collected from the scanning is a big capacity, up to Terabytes. In order to use the technology, they need computers with very strong configuration and use specialized complicated software which needs to be operated by well trained officers.
Realizing that problem, Tran Duy Hao, the founder and executive of StarGlobal 3D and co-workers have built a solution that converts the heavy 3D data and uploads it into web environment. Thanks to this, users can easily access information through devices such as smartphones or computers.
As explained by Hao, StarGlobal 3D uses tools such as 3D scanner, 360 camera, drone and digital camera to take picture and shoot the spaces of showrooms, buildings and factories, and convert the data from physical form into digital form.
Through digitization to build an ecosystem, the technology can be used in many different fields. In addition to image digitization, StarGlobal 3D can also use AI for 3D drawings.
Replying to a comment that StarGlobal 3D is the same as Google Street View, Hao said the ideas of the startup and Google are similar, but Vietnam's solution has outstanding features.
StarGlobal 3D can go deep into the factory, while Google Street View can only view the outside public space. Moreover, StarGlobal 3D also integrates a lot of information on the 3D/360 platform, serving as an all-in-one platform, and people don't have to go anywhere to look for information.
According to Hao, StarGlobal 3D now has three groups of clients, including government projects (such as tourism museums), private enterprises and showrooms, or product display spaces.
"StarGlobal 3D has digitized museums, factories, IZs and relics sites. It is serving B2B clients and will be targeting B2C in the time to come," Hao said.
StarGlobal 3D reported revenue of VND500 million in 2017, VND1.5 billion in 2018, VND3.5 billion in 2019 and VND2 billion in 2020. The figure is expected to rise to VND10 billion this year.
Trong Dat
Reference: https://vietnamnet.vn/en/sci-tech-environment/starglobal-3d-digital-solution-as-good-as-google-s-street-view-758185.html